Flower Mound Home Theater Installation
There is a lot more that goes into a great Home Theater Installation in Flower Mound, TX or a New Media Room Design than just good components. The proper size flat screen UHD or 4K Projector Installation, Speaker Installation and placement and calibration of the audio and video installation, with all components required for an optimal Home Theater Experience in Flower Mound.
With a blend of electrical, sound system and interior design expertise on staff, we don't just install your system – we change the way you watch TV and listen to music. We are delighted to help you enjoy the ultimate cinematic experience with our 4K laser projectors. The sharpness and color vibrancy of 4K laser projectors will bring your home theater to the next level. Now you can have a unique viewing experience in Flower Mound.
Design Your Media Room with
Home Theater Installation Experts
Starting with a free design consultation, our home theater installation experts take every aspect of your home into consideration to ensure a convenient arrangement, best design, safe setup and optimal acoustics and lighting. We can build the entire home theater ourselves or work with your designer or contractors to create a home theater or media room that blends seamlessly with your interior decor.
Our professional technicians have the knowledge and experience to give you the best surround sound home theater viewing experience possible and can even maximize your sound and picture quality!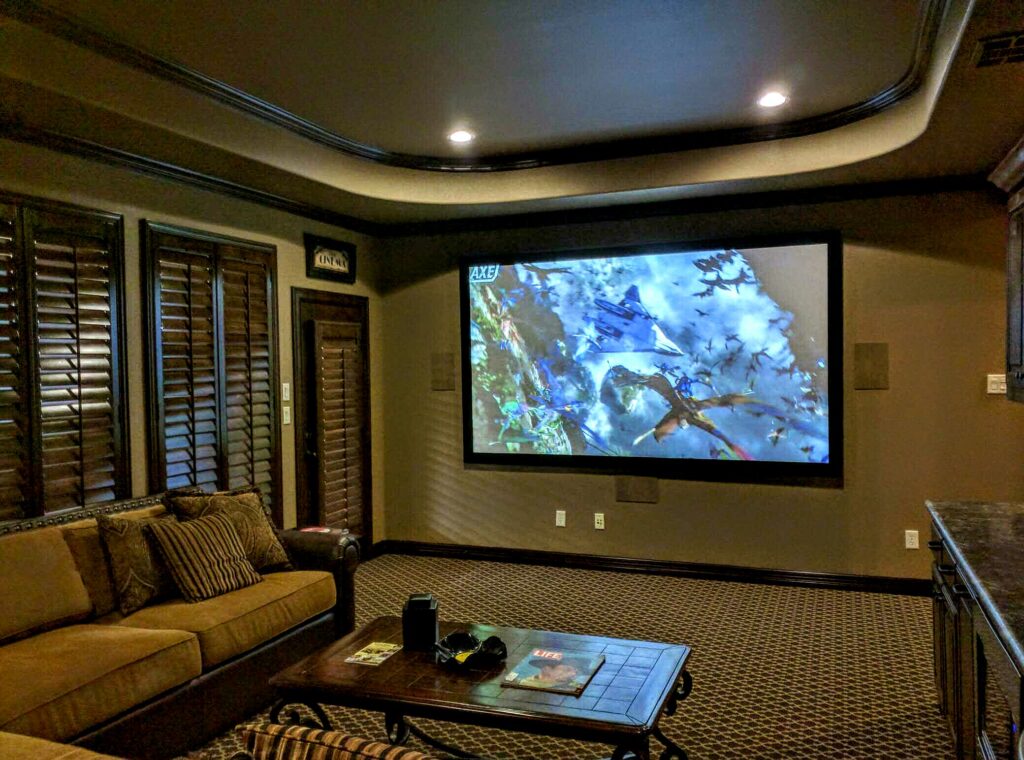 Our Home Theater Installation Services include:
Free Design Consultation
Projector Installation
Projector Screen Installation
Speaker Installation
Wiring and Cabling Hidden
System Installation & Setup
Audio and Video Equipment Calibration
Universal Remote Control Programming
Cat5 and Cat6 Wiring
Cat5 and Cat6 Cable Termination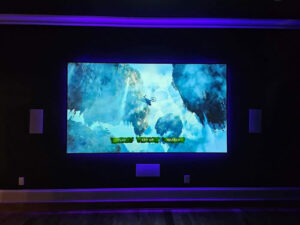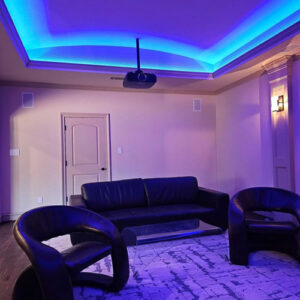 Home Theater Speaker Installation
Whether you would like surface mount speakers or in-ceiling / in-wall speakers, we can provide the proper fit based on the acoustics of your room. We can mount your 4K UHD TV on the wall or install it in a cabinet.
Home Theater Projector Installation
We can provide and install a high definition projector and screen if that is what you prefer.
We can build your custom home theater around your budget in Flower Mound. For the cleanest of installations, we can install all of your components in a closet. We can add and program a Universal Remote Control with RF or IR Transmitter, so you can control all of your electronic devices with one touch.
Do you have questions about UHDTV or Whole House Audio? Need help with Streaming Audio or Video or a Smart Remote in Flower Mound? We stay up to date on new technology and training so that we can supply you with the best system possible.
We have won The Best Home Theater Company in Denton County  and Best of Living Magazine  Readers  for 8 years in a row!
Charlie Brown Sound will make sure that your home theater is one of your favorite destinations!
Please Contact Us for a free consultation and estimate.